Back To News
Outreach Education Seeks Member Participation in Q & A with Author Nathaniel Philbrick
Travels with George: In Search of Washington and His Legacy
Outreach Education Seeks Member Participation in Q & A with Author Nathaniel Philbrick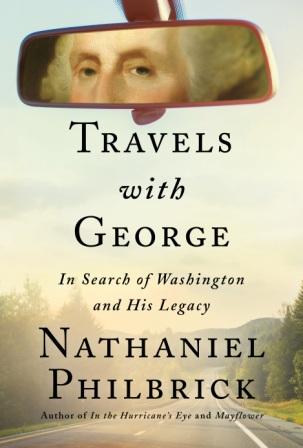 SAR Outreach Education is pleased to announce an upcoming pre-recorded video interview with award-winning author Nathaniel Philbrick on his new book Travels with George: In Search of Washington and His Legacy. SAR membership is invited to be a part of this exciting book review, by submitting questions to the author for this Q & A.  What questions do you have about George Washington's presidency? How was Washington's interactions with the public similar or different from modern presidents? How would Washington feel about the divisions in American politics today? Is George Washington still relevant to Americans today? Please submit your question for Nathaniel Philbrick by October 19, 2021, by emailing Rae Ann Sauer at rsuaer@sar.org and include your national number in the email. The top two (2) member-submitted questions chosen by the author will receive a complimentary copy of the book. Due to time limits, not all questions will be chosen. Once the interview is complete it will be posted on the SAR website and Facebook page on November 2, and the book winners will be announced and notified. Education Committee Chairman Brooks Lyles will moderate this event.
About the Book & Author:
Does George Washington still matter? Bestselling author Nathaniel Philbrick argues for Washington's unique contribution to the forging of America by retracing his journey as a new president through all thirteen former colonies, which were now an unsure nation. Travels with George marks a new first-person voice for Philbrick, weaving history and personal reflection into a single narrative.
When George Washington became president in 1789, the United States of America was still a loose and quarrelsome confederation and a tentative political experiment. Washington undertook a tour of the ex-colonies to talk to ordinary citizens about his new government, and to imbue in them the idea of being one thing–Americans.
In the fall of 2018, Nathaniel Philbrick embarked on his own journey into what Washington called "the infant woody country" to see for himself what America had become in the 229 years since. Writing in a thoughtful first person about his own adventures with his wife Melissa and their dog Dora, Philbrick follows Washington's presidential excursions: from Mount Vernon to the new capital in New York; a month-long tour of Connecticut, Massachusetts, New Hampshire, and Rhode Island; a venture onto Long Island and eventually across Georgia, South Carolina, and North Carolina. The narrative moves smoothly between the eighteenth and twenty-first centuries as we see the country through both Washington's and Philbrick's eyes.
Written at a moment when America's founding figures are under increasing scrutiny, Travels with George grapples bluntly and honestly with Washington's legacy as a man of the people, a reluctant president, and a plantation owner who held people in slavery. At historic houses and landmarks, Philbrick reports on the reinterpretations at work as he meets reenactors, tour guides, and other keepers of history's flame. He paints a picture of eighteenth-century America as divided and fraught as it is today, and he comes to understand how Washington compelled, enticed, stood up to, and listened to the many different people he met along the way–and how his all-consuming belief in the Union helped to forge a nation.
Nathaniel Philbrick grew up in Pittsburgh, Pennsylvania, and earned a BA in English from Brown University and an MA in American Literature from Duke University, where he was a James B. Duke Fellow. He was Brown University's first Intercollegiate All-American sailor in 1978, the same year he won the Sunfish North Americans in Barrington, Rhode Island. After working as an editor at Sailing World magazine, he wrote and edited several books about sailing, including The Passionate Sailor, Second Wind, and Yaahting: A Parody.  In 2000, Philbrick published the New York Times bestseller In the Heart of the Sea, which won the National Book Award for nonfiction. The book is the basis of the Warner Bros. motion picture Heart of the Sea, directed by Ron Howard and starring Chris Hemsworth, Cillian Murphy, Brendan Gleeson, Benjamin Walker, Ben Wishaw, and Tom Holland. The book also inspired a 2001 Dateline special on NBC as well as the 2010 two-hour PBS American Experience film Into the Deep by Ric Burns.   Philbrick's writing has appeared in Vanity Fair, The New York Times Book Review, The Wall Street Journal, the Los Angeles Times, and the Boston Globe. He has appeared on the Today show, The Morning Show, Dateline, PBS's American Experience, C-SPAN, and NPR. He and his wife live on Nantucket.