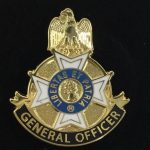 The General Officers of this Society shall be a President General, a Vice-President General for each of the regularly established districts within the United States as specified in the Bylaws and one or more Vice-Presidents General for outside areas – provided that the Board of Trustees shall so provide, Secretary General, Treasurer General, Chancellor General, Genealogist General, Registrar General, Historian General, Librarian General, Surgeon General, and Chaplain General, who shall be elected by ballot by a majority vote of the delegates present and voting at the Annual Congress of the Society and shall hold office for one year or until their successors are elected and qualified. Such General Officers shall serve without compensation in such capacities.
Vice President Generals
New England District (Connecticut, Maine, Massachusetts, New Hampshire, Rhode Island, and Vermont): Douglass M. Mabee​
North Atlantic District (New Jersey and New York): Peter K. Goebel
Mid-Atlantic District (Delaware, District of Columbia, Maryland, Pennsylvania, and Virginia): Ernest L. Sutton​
South Atlantic District (Florida, Georgia, North Carolina, and South Carolina): William A. Greenly​
Southern District (Alabama, Louisiana, Mississippi, and Tennessee):​
Central District (Indiana, Kentucky, Ohio, and West Virginia): William E. Sharp​
Great Lakes District (Illinois, Michigan, and Wisconsin): James L. Petres​
North Central District (Iowa, Minnesota, Nebraska, North Dakota, and South Dakota): Christopher W. Moberg​
South Central District (Arkansas, Kansas, Missouri, Oklahoma, and Texas): Larry Stevens​
Rocky Mountain District (Arizona, Colorado, and New Mexico): Stephen J. Miller​
Intermountain District (Idaho, Montana, Utah, and Wyoming): Larry H. Mylnechuk​
Western District (California, Hawaii, and Nevada): James C. Fosdyck​
Pacific District (Alaska, Oregon, and Washington): Kenneth D. Roberts​
European District (France, Germany, Switzerland, United Kingdom, and the remainder of the European Continent): Patrick M. Mesnard
International District (All territory outside of the other districts): Russell F. DeVenney, Jr.
Executive Committee Appointees
President General Warren M. Alter (2018-2019) (Arizona SAR)
David G. Boring (District of Columbia SAR)
John L. Dodd (California SAR)
J. Fred Olive (Alabama SAR)
David J. Perkins (Connecticut SAR)
Other Appointees
Ambassador to the United Kingdom: Michael Elston (Virginia SAR)
Ambassador to the Caribbean Region: Richard T. Bryant, Esq. (Missouri SAR)
Inspector General: Derek J. Brown (California SAR) (Term Expires in 2020)
Deputy Inspector General: Raymond F. Wess (Florida SAR) (Term Expires in 2020)
Chief Compliance Officer: David G. Boring (District of Columbia SAR) (Term Expires in 2020)
Project Manager for Headquarters and Library Construction: President General Nathan E. White, Jr. (2006-2007) (Texas SAR) (Term Expires in 2020)
Parliamentarian:  Rev. Dr. Randy Moody (Florida SAR) (Term Expires in 2020)
​President General's Travel Coordinator: Russell F. DeVenney, Jr.​ (Missouri SAR)
​Committee Coordinator: Kenneth L. Goodson​​ (Michigan SAR)(Term Expires in 2020)​
​Executive Committee Recording Secretary: Troy L. Foxwell (Delaware SAR)
Members Database and Website Development Project Manager: President General J. Michael Tomme (2016-2017) (Georgia SAR)