The National Society of the Sons of the American Revolution (SAR) is excited to announce that our champion of the 2022 Joseph S. Rumbaugh Historical Oration Contest is James Schultz from Kansas. James competed with 15 other state winners to secure his 2022 national championship title.
The Joseph S. Rumbaugh Historical Oration Contest is open to all students attending 9th through 12th grades in public, parochial or private schools; or home-school students studying at the same grade levels. The preliminary rounds of the contest begin at the local chapter level; students have the opportunity to advance to the state or national levels where scholarships and cash prizes are awarded. It is our intent that the contest will continue to expand on all levels and bring the voices of our young patriots to greater light across our entire nation.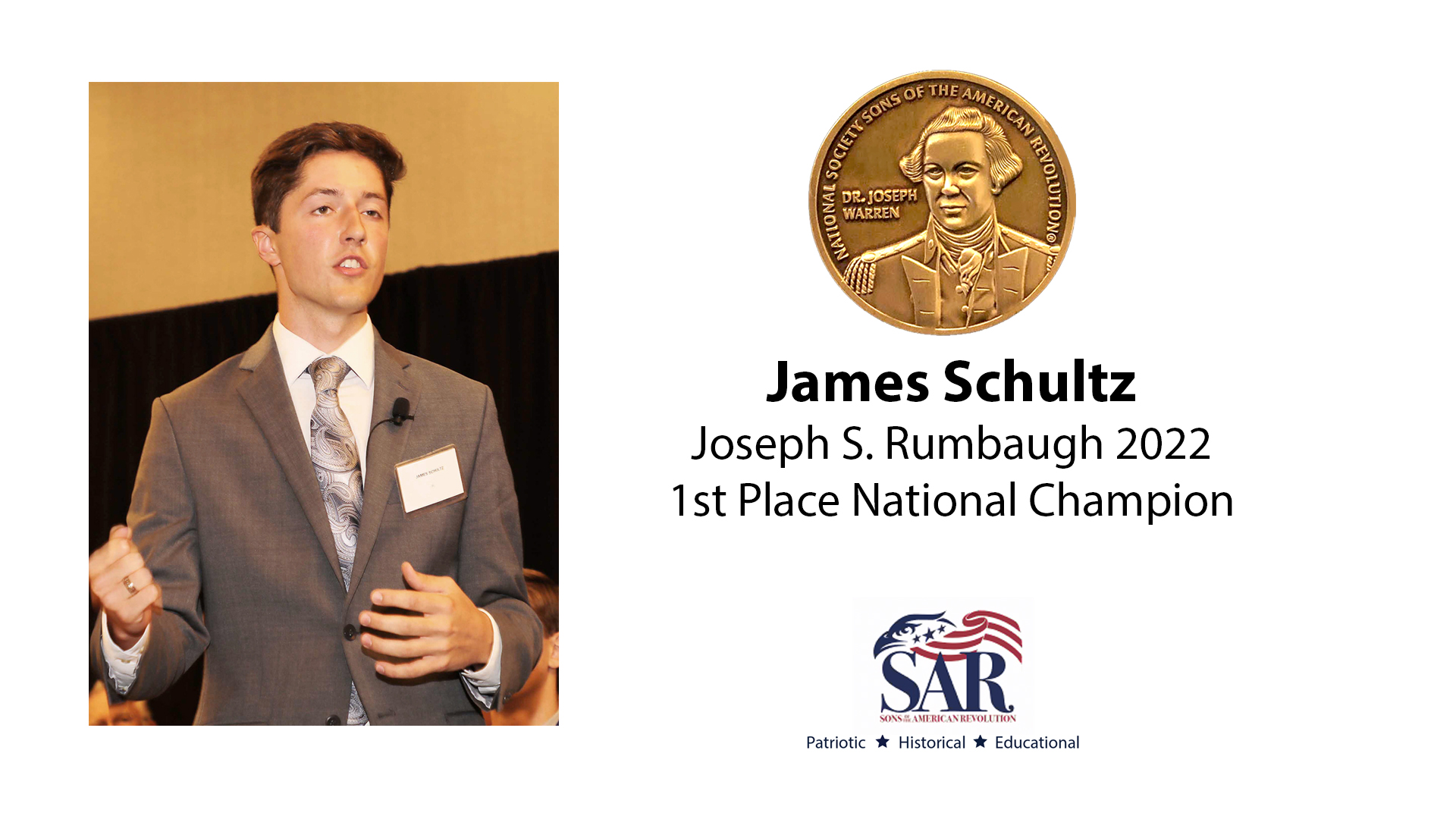 Participants must write an original oration of not less than five minutes, or more than six minutes. The oration must be delivered from memory and without the use of notes or any kind of props. The subject of the oration shall deal with an event, a personality, or a document pertaining to the Revolutionary War with a mention of our nation's 250th anniversary celebration. It is essential that each oration show the relationship it bears to America today. Evidence of historical research and creative presentation are also important. The oration will be judged based upon its composition, delivery, significance, historical accuracy, and relevance to our 250th anniversary.
Three cash/scholarship awards are given: the National First Place Winner receives $8,000; the 2nd Place Runner-up receives $5,000; and the 3rd Place Runner-up receives $3,000 cash prize. Each also receives an Olympic-sized medal. The three non-placing finalists are each awarded $500 cash. All other non-finalist national contestants are awarded $200 cash. An informational flyer and the contest forms can be found below. Please be aware that the local and state application deadline dates may vary, so interested applicants should reach out to their local SAR chapter for further details.
---
Primary Contact for All Entries:
Mr. John H. "Jack" Bredenfoerder
NSSAR Joseph S. Rumbaugh Historical Oration Chairman
8751 Haverhill Lane
Cincinnati, Ohio 45236
---
Donate to the Joseph S. Rumbaugh Historical Orations Contest
---
---
Previous Winners For forty-four years, the National Oration Contest sponsored by the SAR carried the name Douglass G. High. In 1993, the name of this oratorical contest was changed, in perpetuity to the Joseph S. Rumbaugh Historical Oration Contest. The previous annual first place winners are:
| Year | Winning Orator | Sponsoring SAR Society |
| --- | --- | --- |
| 2022 | James Schultz | Kansas SAR |
| 2021 | Kelsey Lopp | Florida SAR |
| 2020 | Abraham Paik | Ohio SAR |
| 2019 | Allison Elizabeth Stanley | Alabama SAR |
| 2018 | Rebekah R. Doane | Indiana SAR |
| 2017 | Taryn Murphy | California SAR |
| 2016 | Liam Patrick O'Connor | Delaware SAR |
| 2015 | Sophia Noelle Zupanc | Ohio SAR |
| 2014 | Hayley Caroline Snowden | Virginia SAR |
| 2013 | Luis Edmundo Vasquez | Texas SAR |
| 2012 | Phillip Paul Cozzi | Illinois SAR |
| 2011 | Jackson Bloom | North Carolina SAR |
| 2010 | Kristin Bowers | Virginia SAR |
| 2009 | Philip Bryan Hayes | Texas SAR |
| 2008 | Virginia Macfarlan | Arkansas SAR |
| 2007 | David Anguish | Delaware SAR |
| 2006 | Edward Seage, Jr. | Delaware SAR |
| 2005 | Terilyn T. Parker | Louisiana SAR |
| 2004 | Chris Hughes | Maryland SAR |
| 2003 | Blake Phyllip Sercye | Illinois SAR |
| 2002 | Gregory Field Price | Maryland SAR |
| 2001 | Micah Wade Kubic | Missouri SAR |
| 2000 | Andrew Green | Kentucky SAR |
| 1999 | Erik W. Jorgensen | California SAR |
| 1998 | Anna Rene Smith | Arkansas SAR |
| 1997 | Joshua M. Koenig | Florida SAR |
| 1996 | John Barry Dunlap II | Maryland SAR |
| 1995 | Julie M. Paik | California SAR |
| 1994 | Michael Bowling | Oklahoma SAR |
| 1993 | Dennis Purvis II | Ohio SAR |
| 1992 | John C. O'Quinn | North Carolina SAR |
| 1991 | Jody Cook | Kentucky SAR |
| 1990 | Jonathan Chad Sauls | Florida SAR |
| 1989 | Martin Kelly | Maryland SAR |
| 1988 | Kena M. Tague | Kansas SAR |
| 1987 | Valie Scott | Georgia SAR |
| 1986 | Brian Nicholson | North Carolina SAR |
| 1985 | Herman Graham III | Ohio SAR |
| 1984 | David Whitaker | Kansas SAR |
| 1983 | Ruth L. Arnet | California SAR |
| 1982 | De-Wayne Layfield | Texas SAR |
| 1981 | David T. Johnson | Texas SAR |
| 1980 | Brian K. Stolley | Florida SAR |
| 1979 | David Derach | Indiana SAR |
| 1978 | Greg Evans | Virginia SAR |
| 1977 | Tom Bishop | Georgia SAR |
| 1976 | Kelly P. Gallagher | Texas SAR |
| 1975 | Mark A. McCord | Georgia SAR |
| 1974 | Jack O. Thomas | Ohio SAR |
| 1973 | Roy Headrick | Tennessee SAR |
| 1972 | Joseph W. McLean | Virginia SAR |
| 1971 | John R. Davis | Texas SAR |
| 1970 | George A. Ott III | Georgia SAR |
| 1969 | Michael Rosenbaum | Virginia SAR |
| 1968 | Timothy George | Tennessee SAR |
| 1967 | Walter Gordon | Georgia SAR |
| 1966 | James A. Haverkamp | Indiana SAR |
| 1965 | Robert P. Lacey | Virginia SAR |
| 1964 | Gary Lee Thorne | Virginia SAR |
| 1963 | David Turner | Tennessee SAR |
| 1962 | Ralph Milone | Florida SAR |
| 1961 | James Lutz | Ohio SAR |
| 1960 | Herbert Schwartz | Illinois SAR |
| 1959 | Julien Calvin | Florida SAR |
| 1958 | Lief Lohrbauer | Florida SAR |
| 1957 | Thomas Ing | Washington SAR> |
| 1956 | John White | Virginia SAR |
| 1955 | John Haywood | Ohio SAR |
| 1954 | William P. Lynch | New Jersey SAR |
| 1953 | James Mounrie | Virginia SAR |
| 1952 | No Contest Held | No Contest Held |
| 1951 | Thomas Hamilton | Ohio SAR |
| 1950 | Ronald Hergen | Empire State SAR |
| 1949 | Robert Wood | Ohio SAR |
---