Back To News
African Founders: How Enslaved People Expanded American Freedom- Outreach Education Seeks Member Participation in Q & A with Author David Hackett Fischer
African Founders: How Enslaved People Expanded American Freedom
Outreach Education Seeks Member Participation in Q & A with Author David Hackett Fischer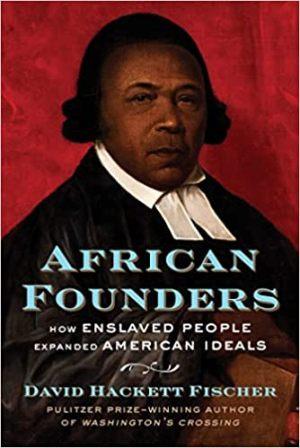 SAR Outreach Education is pleased to announce an upcoming pre-recorded video interview with Pulitzer Prize-winning author David Hackett Fischer on his new book African Founders: How Enslaved People Expanded American Freedom. SAR membership is invited to participate in this exciting Q & A, which will be moderated by Education Committee Chair Brooks Lyles.  What questions do you have about the connection between African Americans and our nation's founding? In what ways did African culture contribute to American culture? Fischer's travels to western Africa add another layer of understanding how enslaved people expanded American freedom.
Please submit your questions for David Hackett Fischer by June 1, 2022, to Rae Ann Sauer at rsauer@sar.org with your national number. The top three (3) member-submitted questions chosen by the author will receive a complimentary copy of African Founders. Due to time limits, not all questions will be answered. On June 17, the completed interview will be posted on the SAR Outreach Education website and SAR Facebook page. Book winners will be announced and notified by Outreach Education.
About the Book:
In this sweeping, foundational work, Pulitzer Prize–winning historian David Hackett Fischer draws on extensive research to show how enslaved Africans and their descendants enlarged American ideas of freedom in varying ways in different regions of the early United States.
African Founders explores the little-known history of how enslaved people from different regions of Africa interacted with colonists of European origins to create new regional cultures in the colonial United States. The Africans brought with them linguistic skills, novel techniques of animal husbandry and farming, and generations-old ethical principles, among other attributes. This startling history reveals how much our country was shaped by these African influences in its early years, producing a new, distinctly American culture.
Drawing on decades of research, some of it in western Africa, Fischer recreates the diverse regional life that shaped the early American republic. He shows that there were varieties of slavery in America and varieties of new American culture, from Puritan New England to Dutch New York, Quaker Pennsylvania, cavalier Virginia, coastal Carolina, and Louisiana and Texas.
This landmark work of history will transform our understanding of America's origins.
About the Author:
David Hackett Fischer is a University Professor and Warren Professor of History emeritus at Brandeis University in Waltham, Massachusetts. He is the author of numerous books, including the 2005 Pulitzer Prize winner Washington's Crossing and Champlain's Dream. In 2015, he received the Pritzker Literature Award for Lifetime Achievement in Military Writing.