Back To News
1774: The Long Year of the Revolution- SAR Outreach Education Seeks Member Participation in Q & A with Author Mary Beth Norton
1774: The Long Year of the Revolution
Outreach Education Seeks Member Participation in Q & A with
Author Mary Beth Norton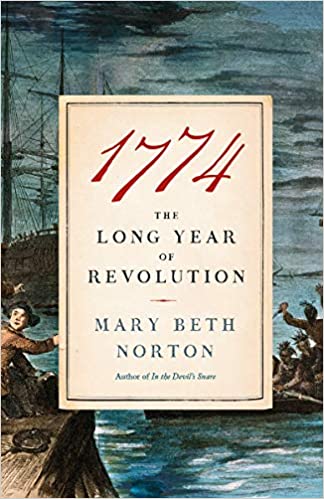 SAR Outreach Education is pleased to announce an upcoming pre-recorded video interview with award-winning author Mary Beth Norton on her recent book 1774: The Long Year of Revolution. SAR membership is invited to be a part of this exciting book review, by submitting questions to the author for this Q & A.
1774: The Long Year of Revolution, by Mary Beth Norton is a deep dive into our colonial history and makes the argument that 1774, not 1776 ought to be considered the foundational year of the new republic.  East India Tea, Committees of Correspondence and the First Continental Congress are just a few of the topics delved into in this significant look into the causes of our split with the Mother Country.
Please take this opportunity to develop and submit your questions for Ms. Norton in this, the fifth in the SAR's Authors Series, Speaking out About History. Please visit the Outreach Education website to see the others in our series. This is your program and we need your support to continue attracting prominent authors and historians to share their time with us. Please submit your question for Mary Beth Norton by February 1, 2022, by emailing Rae Ann Sauer at rsauer@sar.org and include your national number in the email. The top three (3) member-submitted questions chosen by the author will receive a complimentary copy of the book. Due to time limits, not all questions will be chosen. Once the interview is complete it will be posted on the SAR Outreach Education website and Facebook page on February 18, 2022, and the book winners will be announced and notified. Education Committee Chairman Brooks Lyles will moderate this event.
About the Book:
 In this masterly work of history, the culmination of more than four decades of research and thought, Mary Beth Norton looks at the sixteen months leading up to the clashes at Lexington and Concord in mid-April 1775. This was the critical, and often overlooked, period when colonists traditionally loyal to King George III began their discordant "discussions" that led them to their acceptance of the inevitability of war against the British Empire. Drawing extensively on pamphlets, newspapers, and personal correspondence, Norton reconstructs colonial political discourse as it took place throughout 1774. Late in the year, conservatives mounted a vigorous campaign criticizing the First Continental Congress. But by then it was too late. In early 1775, colonial governors informed officials in London that they were unable to thwart the increasing power of local committees and their allied provincial congresses. Although the Declaration of Independence would not be formally adopted until July 1776, Americans had in effect "declared independence " even before the outbreak of war in April 1775 by obeying the decrees of the provincial governments they had elected rather than colonial officials appointed by the king. Norton captures the tension and drama of this pivotal year and foundational moment in American history and brings it to life as no other historian has done before.
About the Author
 Mary Beth Norton is the author of five books and coeditor of several others. Her textbook, A People and a Nation, a survey of U.S. history written with five other authors, has been published in ten editions and has sold more than 500,000 copies. Norton is the Mary Donlon Alger Professor Emerita of American History at Cornell University. She lives in Ithaca, New York.