What is available in the library?
The Library's holdings include family history books; records of states, counties, and cities that composed the original 13 colonies (Connecticut, Delaware, Georgia, Maryland, Massachusetts, New Hampshire, New Jersey, New York, North Carolina, Pennsylvania, Rhode Island, South Carolina, and Virginia.); Revolutionary War-period history books, biographies, pension applications, muster rolls, etc.; census records (available in various formats); and much more.
---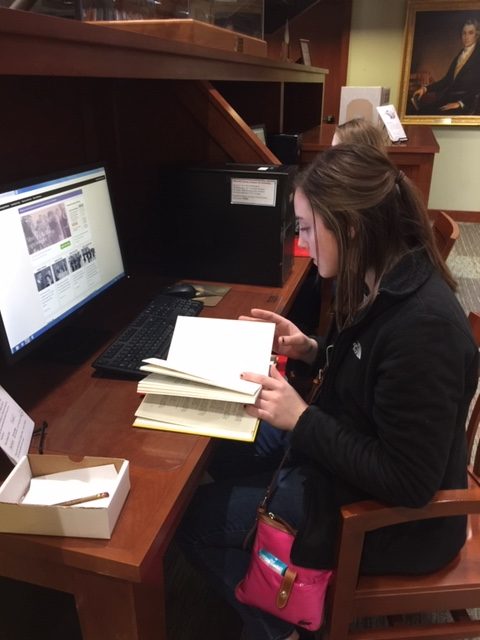 Computers with Internet access are available for use by library patrons. These computers offer free access to research sites, such as:
Ancestry.com (all available Federal Census records can be found here, plus countless other types of records)
FamilySearch.org access to online holdings (Affiliate Library with access to 500 million+ images you cannot access from home).
Fold3.com (contains millions of scanned records from the National Archives, particularly military records).
Heritage Quest Online (some Federal Census records and a variety of other information).
New England Historic Genealogical Society Databases (New England vital records, cemetery transcriptions, will abstracts, etc.).
Accessible Archives (colonial newspapers, county histories).
Gale Genealogy Connect: a searchable collection of 189 titles pertaining to the American Revolution as well as individual state and patriot contributions to the Revolutionary War.  Available to SAR members from home (login required) and anyone in the SAR library. SAR members who have successfully logged in will find this collection under the Members tab.
Gale's Introduction to U.S. History, The American Revolution: Consisting of 450 titles, this archive focuses on a diversity of issues through a wealth of original documentary material; allowing the reader to examine economics and international relations, contemporary religion and science, and the strategies and battlefield realities of combatants on both sides of the conflict. Available to SAR members from home (login required) and anyone in the SAR library. SAR members who have successfully logged in will find this collection under the Members tab.
The SAR Patriot Research System can also be searched on the Library's computers or home which allows users to search for a Revolutionary War patriot's name to see if any member of the SAR has had an application approved based on his ancestor's war service and direct lineal connection to the member.
The SAR's Library staff will be glad to assist you with these searches and advise you how you can order copies of applications and/or proof documents from the SAR or the DAR that might aid you in proving your own lineage. Please note: Most SAR applications, National from 1889 through 1996, are available on microfilm in the Library. SAR applications 1889 – 1970 are accessible online via Ancestry.com. SAR applications not found on microfilm may be obtained from the SAR record copy clerk. The SAR Library's catalog is available online as well as on the patron computers found within the Library. The most-accessed books are:
Family Histories – arranged in alphabetical order by surname. Call numbers begin with CS71. (Note: Some family histories are on microfiche, so check the library catalog for sources available.)
Books pertaining to States' records – grouped by state, and within each state, books are arranged in the following order: periodicals, general, counties (alphabetical), towns (alphabetical). Call numbers begin with F.
Library Configuration: First floor, beginning left of entrance, books are arranged in alphabetical order according to call number (beginning with call number A). They then proceed to the end of that wall and begin again across that end of the room and back to the front of the right wall. Then the call numbers pick up again in the same order upstairs on the Mezzanine Level at left front, proceeding around that level in the same "clockwise" order.
Self-service photocopiers are available for making copies from books. Also, printers are available to print pages from Internet sites. Prints can also be made from microfilm and microfiche machines. All copies/printed sheets are $.25 each.
NOTE: The copyright law of the United States (Title 17 U.S. Code) governs the making of photocopies or other reproductions of copyrighted material. Persons using our equipment are liable for any infringement.
Special Collections
The George Rogers Clark Collection centers around an American Revolutionary War soldier and frontier leader who led the campaign against the British in the Northwest Territory. He succeeded in capturing the key British strongholds of Kaskaskia, Cahokia, and Vincennes, holding this territory and thereby saving the Illinois and Kentucky region for the colonies. The George Rogers Clark Papers were filmed in 1991 from original documents at the Virginia State Library and Archives in Richmond. They pertain to the Illinois Regiment of the Virginia State Forces and are held in the SAR Archives on 13 rolls of microfilm. These reels contain 16,858 frames with approximately 85,000 images of original documents (there is usually more than one document per frame). These papers are dated from January 1778 through November 1834. There is a six-volume printed index to the papers (also contained on two microfiche cards) along with abstracts held on seven microfiche cards. The index, completed in 1995, has 97,579 entries for 20,110 documents filmed on the 13 reels.
The Marquis de Lafayette Collection centers around a French statesman who came to America in 1777 and joined George Washington's staff as a major-general in the Continental Army. He persuaded Louis XVI to send French troops to the aid of the American colonists, which proved instrumental in the defeat of Cornwallis at Yorktown, Virginia, in 1781. The Lafayette Papers are held in the SAR Archives on 64 rolls of microfilm. They were filmed in 1996 from the correspondence, letterbooks, notebooks, memoirs, writings, speeches, family papers, and household records that were discovered in 1956 at Chateau La Grange, where Lafayette lived from 1799 until his death. These papers contain information about Lafayette's military, political, and private life, in addition to French and American history of the late 18th and early 19th centuries. Also included are some papers of the Lasteyrie family, descendants of Lafayette who inhabited the chateau. These documents range in time from around 1457 to 1990.