The Education Committee Vision is to use our outreach programs to perpetuate knowledge of our founding documents and stories of patriotism, courage, sacrifice, tragedy, and triumph of the patriots who achieved the independence of the American people in the belief that these stories are universal ones of man's eternal struggle against tyranny, relevant to all time, and will inspire and strengthen each succeeding generation as it too is called upon to defend our freedoms on the battlefield and in our public institutions.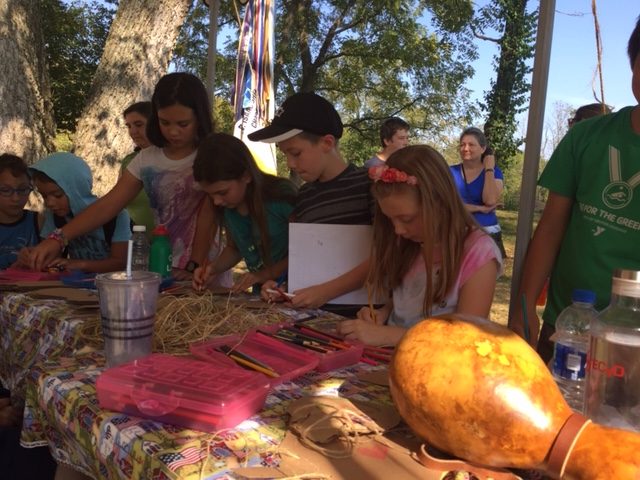 ---
---
The SAR Outreach Education program has compiled a few supplementary online resources available through various similarly-focused, reputable Revolutionary War period historical sites, organizations, and national museums and institutes. While this list is not exhaustive in nature, these external links should provide interested visitors and educators an initial platform from which to begin their on-going educational journeys. All website links were active at the time of this posting, however, if users find inactive links, please let the SAR know and the staff will adapt this list accordingly. If information from these sites is used online or elsewhere, please reference any and all appropriate sources.
The Bill of Rights Institute has a variety of programs and options for both educators and students interested learning more about the U.S. Constitution and other founding documents. Lesson plans centering on the Federalist Papers and early presidential perspectives on the subject are available to download.
The Campaign 1776​

organization uses its resources and focus to preserve historical battlefield of the Revolutionary War and War of 1812. Its website is strewn with in-depth videos, timelines, and other resources to educate the public about the importance of these locations. Campaign 1776 has produced 

four valuable video pieces​

examining the personalities, events, and issues during the American fight for independence for use in classrooms, community meeting rooms, and visitors' own homes.​

Colonial Williamsburg has done an excellent job of providing interactive online experiences to students, educators, and history enthusiasts through its website. Younger students can explore games and guides

 explaining lifestyles during the colonial period, while teachers can gather effective 

resources and lesson plans

. 

Webcams

, 

downloadable media

, 

videos

, and

 podcasts

will keep visitors busy and engaged for hours and returning for more.

Freedoms Foundation at Valley Forge

is located near a key Revolutionary War historical site, the Freedoms Foundation promotes responsible citizenship and involvement in patriotic educational programming across the nation. The organization's website has invaluable resources available to

educators, students

, and 

volunteers

interested in aiding civic initiatives in both the classroom and community.

Mission US has developed an interactive lesson for classrooms called "For Crown or Colony?", which allows the students to call the shots and make decisions as a young colonist just before the Boston Massacre. Depending upon the students' decision trees during game play, the program uses primary sources and historical insight to deliver varying outcomes for the character and illustrate the broader social context and conflicting perspectives around this pivotal moment in American history.
Thomas Jefferson's Monticello offers a wide variety of resources and educational planning material for teachers and families

. There are links which encourage 

youth learning

, activities for 

classrooms of all levels, and references to Jefferson's own writings and perspectives on colonial life, courtesy of collected primary sources

.

George Washington's Mount Vernon has an extensive list of educational resources for educators

 and 

students

, including 

lessons plans for several age groups

, details about 

National History Day

, and 

primary sources

covering a wide swath of President George Washington's life on his Virginia estate and the wider colonial period.

Museum of the American Revolution in Philadelphia recently found hand-written copies of Revolutionary War solider and fifer Owen Madden's music book, the staff helped reproduce his tunes on an 18th century fife. The resulting colonial music samples

can be used for classroom or community events, or to help encourage the next generation of musicians.

The National Archives has given visitors access to its online records and collections

 as well as many resources to aid educators in their American history 

lesson planning

. Information to help coordinate 

student visits

 at the National Archives' locations around the U.S. and teacher 

professional development programs

to help bolster teaching effectiveness are also provided online.

The National Constitution Center offers a quick and fun online quiz called "Which Founder Are You?"

to help visitors find out which Constitutional founder he or she is most like. Each patriotic founder's personality is described and compared after completing the quiz. Educators and students can use this site to open discussions in the classroom about the various perspectives, opinions, and influential personalities involved in the 1787 Constitutional Convention.

"Liberty!: The American Revolution" Series

is an award-winning series produced by the Public Broadcasting Service chronicles the birth of the American Republic and the early states' struggle to unite against their British rule. The Liberty! website provides insight on the 

people and lifestyles

 of the period,

 interactive experiences

, and ample 

historical reference materials

from the national station for classrooms and libraries alike.

The Smithsonian Institution has an enormous array of pieces and exhibits focused upon the American fight for independence. This includes both educator materials and resources

 and lessons to help engage students with 

primary sources

. More specific information concerning the Smithsonian's 

colonial period collections

, exhibits on the 

American Flag and Flag Day celebrations

, and the 

American presidency

 are also adaptable to classroom learning.

The 

National Museum of American History

 offers insight online to its art and artifacts of the early American colonial life and the American Revolution.

Values Through History's "Why America is Free" is an upper elementary, fully integrated curriculum and educational program endorsed by the SAR. The "Why America is Free" curriculum is an unprecedented, hands-on learning experience for educators and their students. The curriculum covers the extraordinary events, times, and heroes of the American Revolution as well as the principles and civic values upon which the country was founded. At the same time, it teaches the mandated skills and knowledge

 in every subject in an in-depth and multi-sensory manner. It does so in a way that unifies students, expands minds, generates respect and responsibility, strengthens character, and establishes a lasting curiosity for learning. Values Through History, Inc. is a non-profit 501(c)(3) entity.