Resources on Spain in the American Revolution
The SAR Genealogical Research Library has a number of good titles pertaining to the important role of Spain (and Hispanics) during the American Revolution. View this video to learn how to find these resources in the SAR online catalog:
Selected
books in the SAR Research and Genealogical Library collection
From across the Spanish empire: Spanish soldiers who helped win the American Revolutionary War, 1776-1783; Arizona, California, Louisiana, New Mexico, and Texas military rosters
by Martinez, Leroy F.
Spain's Arizona patriots in its 1779-1783 war with England during the American Revolution
by Hough, Granville W.
Spain's patriots of northwestern New Spain from south of the U.S. border in its 1779-1783 war with England during the American Revolution
by Hough, Granville Watkins
Participacion de Espana en la independencia politica de los Estados Unidos
by Padron, F. Morales.
Spain's California patriots in its 1779-1783 war with England during the American Revolution
by Hough, Granville W.
Spanish, French, Dutch, and American patriots of the West Indies during the American Revolution
by Hough, Granville W.
California Presidio Records, 1776 – 1783  
by Martinez, Leroy F.
Descendants of Galceran de Pinos in Spaine, France, England and America
. by Pyne, M. Taylor.
Friars, soldiers, and reformers: Hispanic Arizona and the Sonora mission frontier, 1767-1856
by Kessell, John L.
Alphabetical list of battles, 1754-1900
…; compiled from official record by Strait, N. A.
Passports of southeastern pioneers, 1770-1823: Indian, Spanish and other land passports for Tennessee, Kentucky, Georgia, Mississippi, Virginia, North and South Carolina
by Potter, Dorothy Williams.
Subjects in the Library of Congress catalog:
United States–History–Revolution, 1775-1783–Participation, Spanish
Mexico, North — History — Revolution, 1775-1783 — Participation, Spanish
Library Director Update June 4
How to access e-books on the library catalog and other news: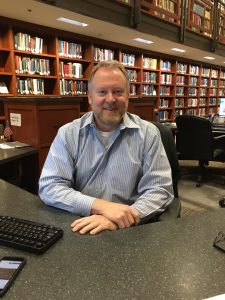 Welcome Brian Christensen to the SAR Library!
Welcome to our newest member to the SAR Library, Compatriot Brian Christensen! Brian joined the SAR Library staff as an assistant librarian. He is a resident of Floyds Knobs, Indiana, a short drive west of Louisville and is married with two young daughters, age 11 and 7. Brian has a Bachelor of Science degree in Business from Indiana University and recently retired from sales management in the medical device and pharmaceutical industries.
As for genealogy, Brian has been researching for almost 40 years and has visited most of the major US libraries from Boston to Salt Lake City, along with dozens of state archives, and local historical societies. He joined the SAR in 1988 (National # 131420). He enjoys assisting visiting family history researchers and empowering them with tips and ideas of finding that hard to find ancestor. Visit and say hello to Brian soon!!
---
Genealogy Night
What does a family history researcher do when it's two o'clock in the morning and an elusive ancestor is keeping them up?  Counting backwards by 3 starting with 2,423 can help or reading an old chemistry textbook from one's college days may do the trick.  Most people reading this usually just give up and log onto one of the online resources they discovered at this year's annual Genealogy Night at the SAR Library program we hosted recently.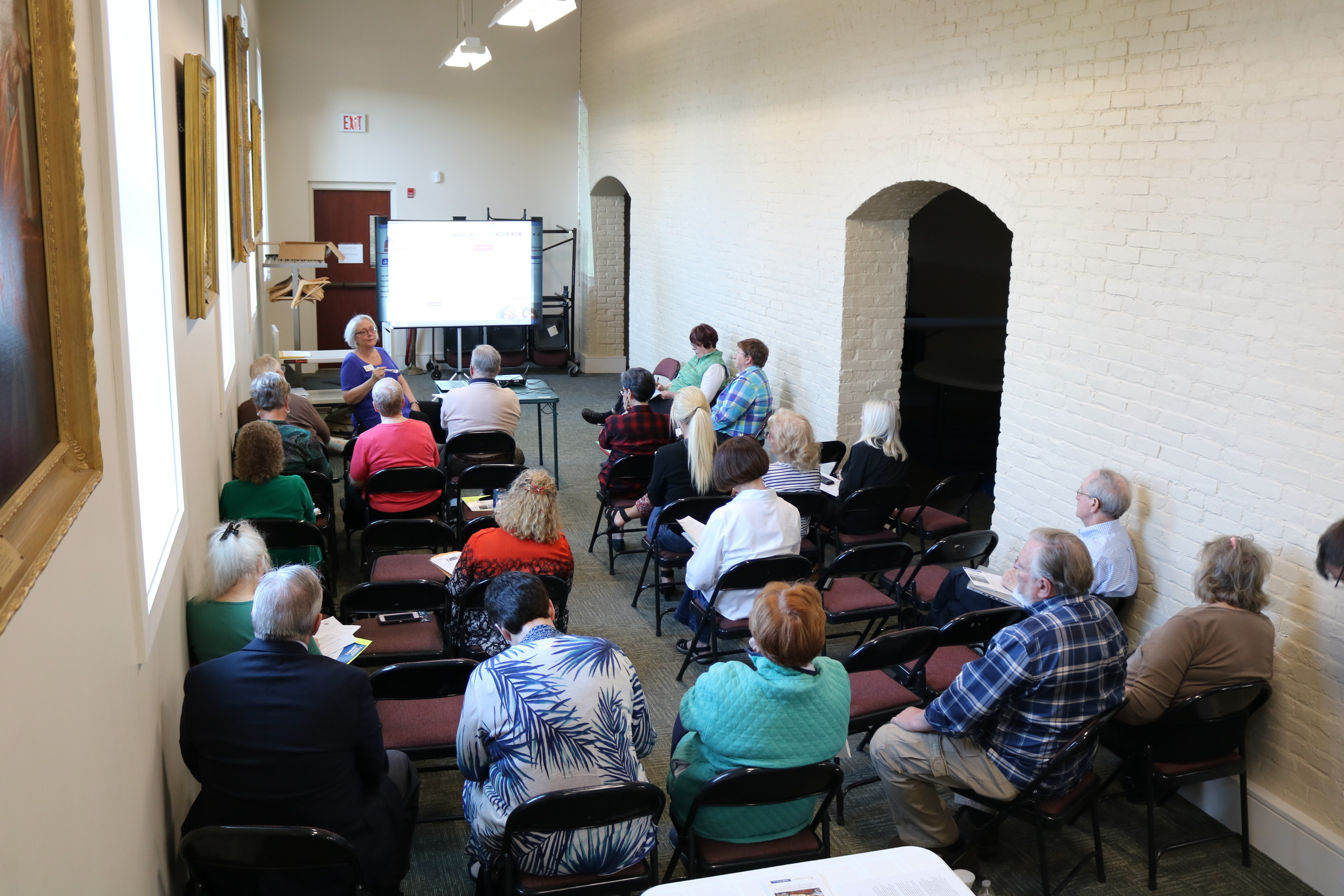 Held the evening of April 16th, researchers from several states gathered to research their ancestors or attend one of several informative lectures covering online research sites.  SAR genealogy staff members Denise Hall gave a talk on making applications to the Daughters of the American Revolution and resources available to us at the DAR.org website and similarly, our very own Brendan Potter gave a lecture on applying to the Sons of the American Revolution and resources available at the SAR.org website.  Next up to bat was library assistant Mike Dittoe who gave a terrific talk about the value of FamilySearch.org to researchers and your Library Director wrapped up the evening of tutorials with a visit to the rich resources found at American Ancestors​ (NEHGS).
Empowering visitors with new ideas and information to address their brick wall ancestor is what we do at the SAR Library and gosh, it can be a lot of fun! See for yourself, read our visitor reviews on 
TripAdvisor
.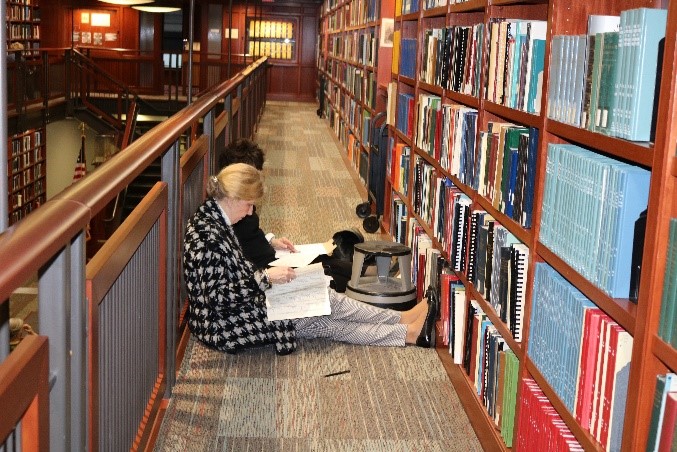 ​
---
Ho Ho Ho Lots of Books Indeed!
December 21, 2018
Season's Greetings from the staff of the Sons of the American Revolution Genealogical Research Library!
Whether you've been naughty or nice, we are pleased to share with family history researchers everywhere some exciting Christmas cheer!
More family genealogies, military records, local histories, and biographies are becoming available to researchers everyday but what's so exciting is that our library staff are making these resources more easily accessible than ever!
For the first time, many titles in the SAR's Genealogical Research Library (and in the public domain) can be used in the comfort of your home. For example, when you search The Ancestors and Descendants of Zachariah Eddy in our catalog, you will be directed to an electronic copy of this book. You'll even have the option to save it to your computer for later use!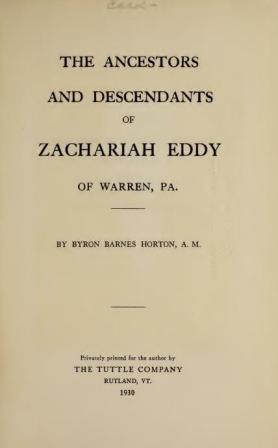 Are you into Revolutionary War history? You really should read the first comprehensive history of the American Revolution by Mercy Otis Warren (1804) – click here for SAR's catalog record and download.  For lovers of George Washington, you need to have your very own e-copy of John Marshall's 1805 official biography of our first president – just click here. These and many other titles are being discovered and added to the SAR Library Catalog so be sure to visit and use this valuable research tool!
Santa has been very good this year but as busy as his library elves have been, we wish you will be good to us too! Please visit the SAR Library's Amazon Wish list and consider purchasing a book for our collection. By purchasing an item off the Library's Wish List, you can choose a donation that you can be sure the library needs. Amazon.com will even ship it directly to us!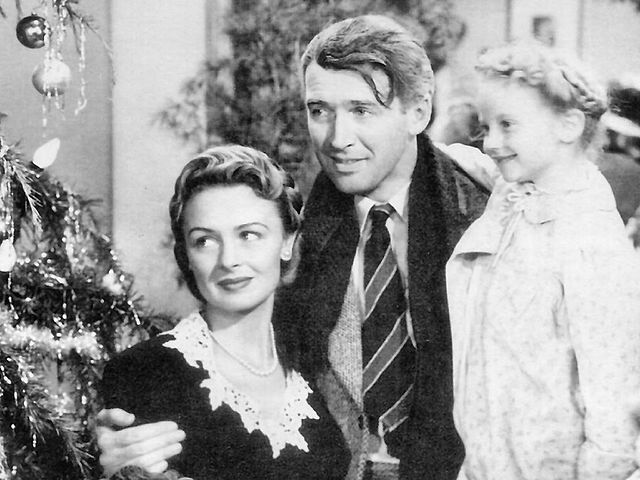 [/caption] The SAR librarian says, every time a bell rings, another book is added to the library!
Library Director Statement
February 8, 2018
SAR Welcomes New Library Director!
January 4, 2018
The National Society of the Sons of the American Revolution is pleased to announce the recent appointment of Joe Hardesty as the new SAR Genealogical Research Library Director!
Hardesty was born and raised in Louisville, KY and earned a Masters degree in Education from Western Kentucky University in 1986 and a Masters degree in Library Science from the University of Kentucky in 2003. He holds a Library Certificate with the Commonwealth of Kentucky and a Certificate in Genealogical Librarianship from the National Institute for Genealogical Studies.
Hardesty is an avid genealogist who began researching his family history in 1985, resulting in the discovery of a direct ancestor who served in the Maryland State Militia during the War for Independence.
He comes to the SAR after twenty-two years of experience as the Kentucky History and Genealogy Librarian with the Louisville Free Public Library – growing, preserving and promoting the use of the largest genealogy collection housed in a Kentucky public library.  He has taught genealogy seminars on a variety of topics to members of local and state genealogical societies and conferences as well as designed, planned and hosted in August 2017 the first ever – an event that will be repeated year after year in public libraries throughout Kentucky.
Hardesty is very excited to be joining the SAR staff, saying "I enthusiastically embrace the challenge to make the SAR Library (one of the finest research collections of genealogical and American Colonial history in the United States), into THE repository of first choice for researchers everywhere." He welcomes your comments and questions and can be reached at jhardesty@sar.org.