The SAR Premium Membership Medal Committee was created in 2010 by then President General Ed Butler to produce a high quality replica of the original 1890-1894 Tiffany style membership medal struck in sterling silver and plated in gold. The committee raised $3,100 in donations to create the tooling and dies needed for producing the large membership medal and the miniature membership medal. Citypride, Ltd. in Jenkintown, Pennsylvania, created the tooling and dies, and produces and sells these medals for the SAR. Citypride created the tools and dies from several examples of early SAR insignia that were loaned to them by SAR members. Citypride also produces insignia medals for other heritage and lineage societies such as the Society of the Cincinnati, the Society of Colonial Wars, and the General Society of the War of 1812.
Following up on the success of the premium SAR membership medal, in 2013 the committee created other premium items – cuff links, tie bars, and tie tacks – all based upon the dies created for the large and miniature membership medals. Citypride also sells premium SAR silk ribbons (neck ribbons and ribbon drapes for the membership medals).
One of the goals of the committee is to raise funds for the SAR Center in Louisville, Kentucky. Those SAR members interested in ordering the large premium membership medal are required to make a new donation to the SAR Foundation of $250. The required donations for the other items are: $25 to order the miniature membership medal, $25 to order the premium cuff links, and $25 to order the tie bars and tie tacks. There is no donation required to order the neck ribbon or ribbon drape for the large premium membership medal. To date, the committee has raised over $16,000 for the SAR Foundation, as well as transferred the ownership of the $3,100 tools and dies to the SAR Foundation.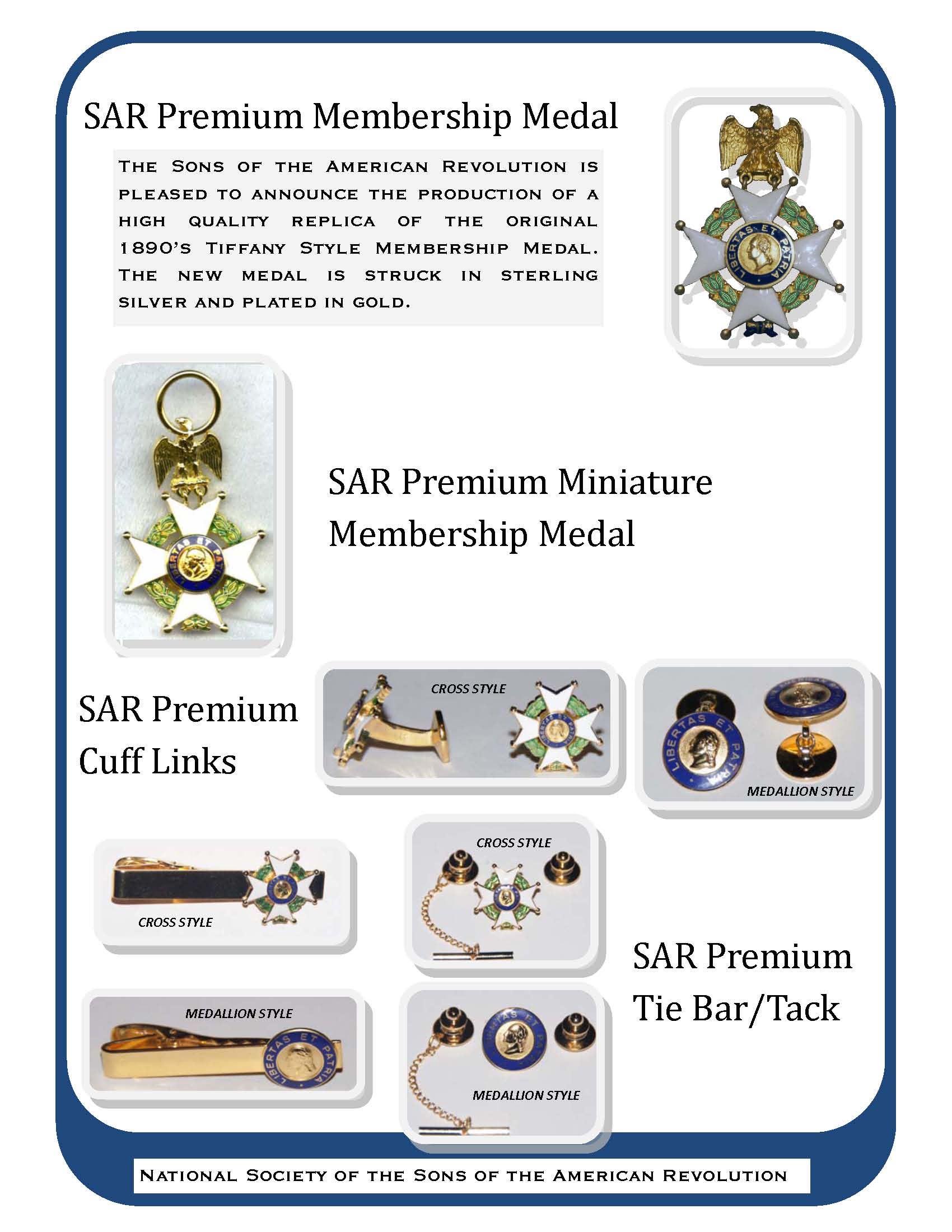 If SAR members are interested, please contact the Premium Member Medals Committee chairman for the current price quote on the premium membership medals and other premium items. Since the premium items are made with precious medals, the purchase price varies each month due to changes in gold and silver prices. Please fill out, attach, and mail the current month's
PREMIUM MEDAL ORDER FORM
to the committee chairman, along with one check for the appropriate donation payable to the "SAR Foundation," and another check for the current price quote for the medals/items payable to "Citypride Ltd." Orders for the Premium SAR Membership Medal typically take four to six weeks to be delivered. The membership medals are shipped directly from Citypride after being struck and assembled.
These premium items are not being offered as a part of the regular SAR Merchandise inventory, but rather offered and sold by the Premium Membership Medal Committee.